News
Best Listed Company 2014 in Diversified Manufacturing Sector
We proudly to announce that PT Selamat Sempurna Tbk (SMSM) records the achievement of receiving the Investor Awards 2014 for the category of "Best Listed Company 2014 in Diversified Manufacturing Sector" This award is given to 14 companies in each sector, including SMSM, over the other 493 companies that are listed at Indonesia Stock Exchange.
Companies included in the list are selected through a rigorous selection process, by looking at the long-term performance of the company's such as revenue growth, profit and rate of return for shareholders. The factors that allowed SMSM to achieve the award are the fundamentally solid performance and the market appreciation for SMSM.
The categorization of issuer or listed companies this year took the theme of "Surfing the Waves of Election Year and Global Volatility", to explore the understanding and strategies of an issuer's management to face the challenges or business opportunities during the election year or global uncertainty. In a challenging period, an issuer's management is also required to consistently apply the good corporate governance (GCG) and risk management.
The awards jury reviewed the fundamental and technical aspects of each company's financial performance, and also set out nine criteria to short-list the final candidates for the awards. These included a requirement that the company's shares be actively traded between April 2013 and March 2014, and that their 2013 full-year financial reports not carry any disclaimers or adverse opinions from public accountants and must have been submitted to the Indonesia Stock Exchange (IDX) by March 31.
The listed companies that were selected must not have booked a loss last year, and must have equity of no less than Rp 50 billion ($4.35 million). The listed companies also must have at least more than 300 shareholders.
Through this process, the judges also determined awards to 14 listed companies from 18 different sectors such as ;
Malindo Feedmill Tbk, in the agriculture and farm sector,
Selamat Sempurna Tbk, in the diversified manufacturing sector,
Wijaya Karya Tbk, in the property and construction sector,
Mayora Indah Tbk, in food and beverages sector.
Bank Negara Indonesia Tbk, in banking sector
Kresna Graha Sekurindo Tbk, in mutual funds and brokerages sector,
Astra Graphia Tbk, in electronics sector,
Mandala Multifinance Tbk, in multifinance sector.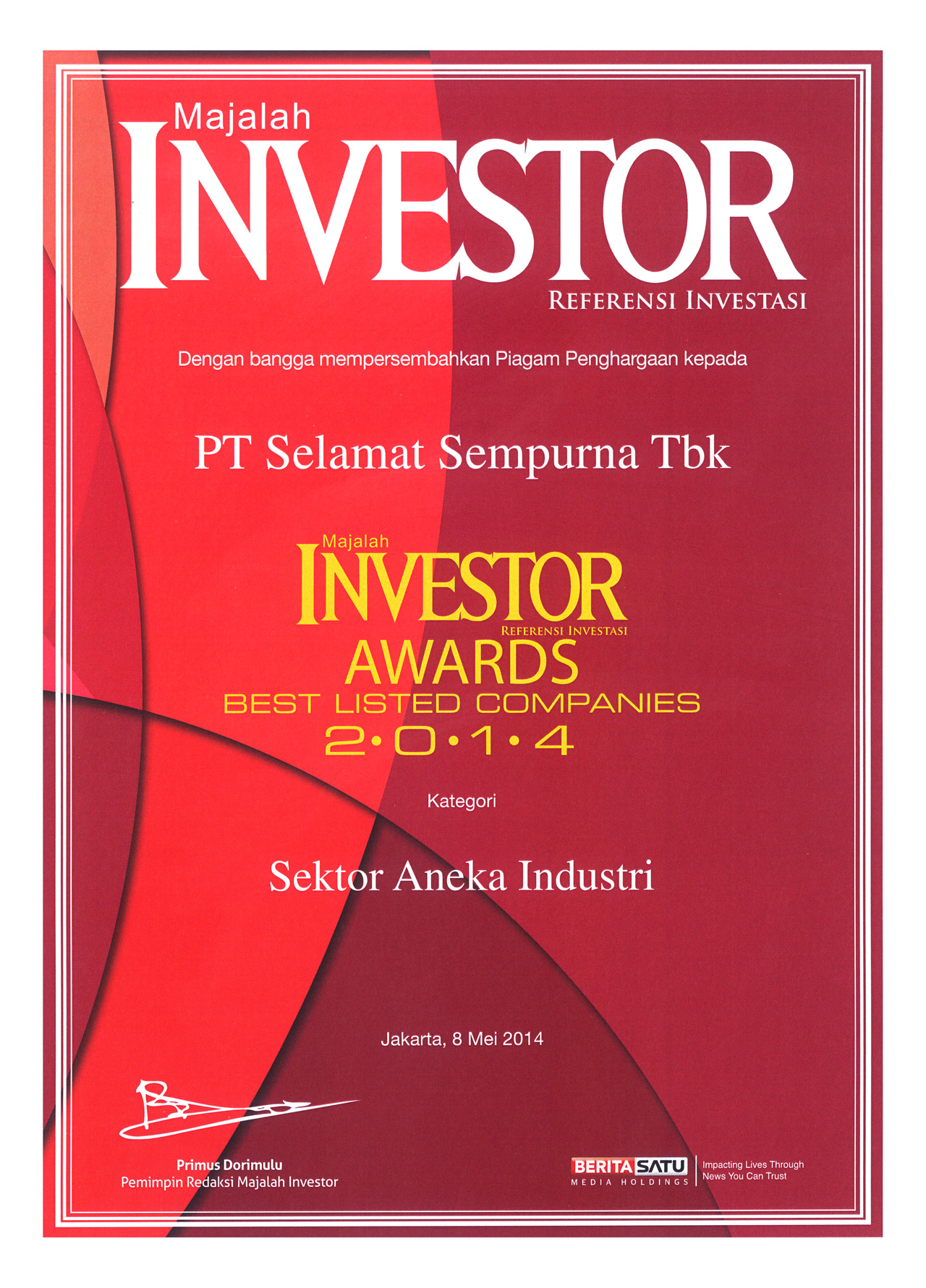 ---